Illustrating regional patterns
Des Moines, Iowa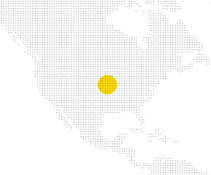 The "Living Regionally game" is a map-based web application that illustrates the aggregate regional patterns that unite people across the region. The application asks users to (anonymously) mark landmarks that are important to them (approximately where they live, where they bought their last pair of shoes, where their workplace is, etc.) and then draws the connections to show their unique pattern. The star pattern illustrates the regional patterns of individuals' movement.
The web application was developed for The Tomorrow Plan, a planning project focused on the sustainable regional development of Greater Des Moines, Iowa. The project's mandate was to engage residents of 542 square miles of the Greater Des Moines area in a collaborative planning exercise. Within that area, however, existed 17 cities, 4 counties, and few overarching governmental agencies. What structure was there for residents and governmental agencies to foster a shared regional future?
The concept for the web app was to create an accessible way to broach this question, and to make visible the obvious: that residents traverse the region every day for many reasons.
Details
The image shows the original concept sketch. This quick blueprint more-or-less guided the UX of the final web app.
Screenshots
We built the app in a couple of days, and it was a useful tool to spur conversations at the in-person Open House in September 2011. Check out the game online.